3 and older – masks required! Only 1 parent (no siblings, friends, etc) can accompany the patient even when multiple patients are scheduled to be seen.
We will be seeing fewer patients throughout 2020. Also, we're following the recommendations of the CDC, the American Academy of Ophthalmology, our affiliated hospitals, public health officials as well state and local authorities. We have outlined our safety procedures below to ensure you have a safe and comfortable visit when in our offices.
Safety Procedures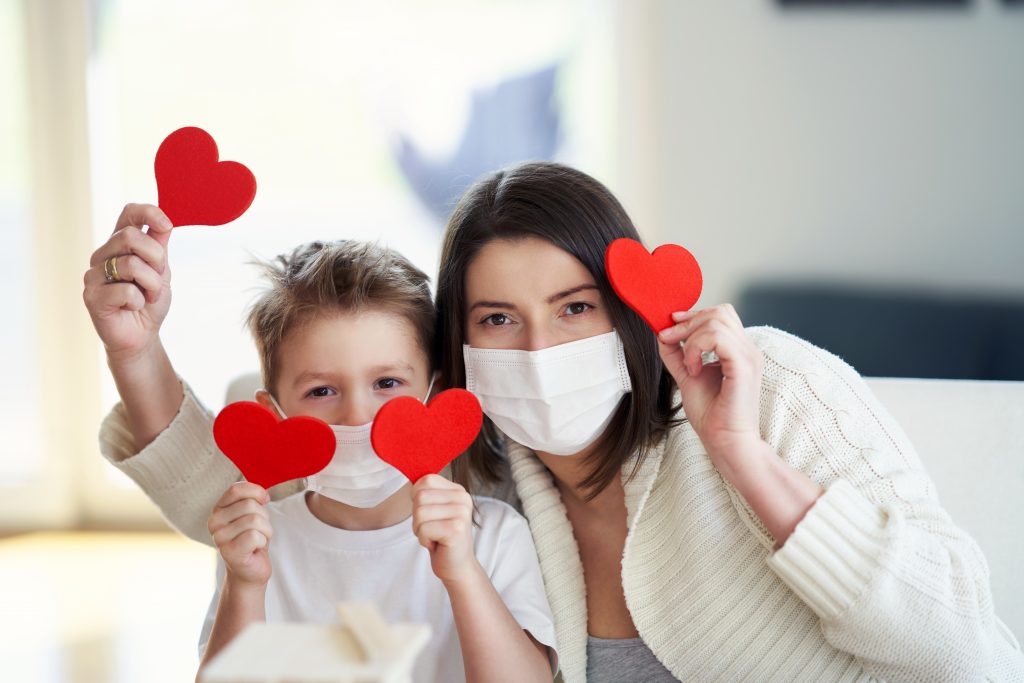 Limiting the amount of people in our offices at one time. Only ONE parent (no siblings, friends, multiple parents) may accompany a patient even in cases where multiple children are scheduled to see us. In some situations, we're even having the patient and parent wait in their cars while dilating.
Screening visitors and staff for fever, cough and/or exposure to COVID-19.
Requiring everyone 3 years and older to wear face masks that covers both their mouth and nose at all times while in our buildings. Our staff will also wear masks and appropriate personal protective equipment throughout their entire workday.
Creating an environment that allows for social distancing. All toys, books, magazines and most chairs have been removed from exam rooms and lobbies. Having visitors stay approximately six feet away from others – including our front desk staff when possible.
Thoroughly disinfecting exam rooms between every patient.
Treating you respectfully and expecting the same from you. Please remember that your words and behavior toward our staff matters. While you may not agree with our policies, we have implemented all of our safety policies because we care about our patients, our staff ourselves, all of our families and our community.
Our Availability
Please recognize the importance of maintaining your scheduled appointment as each treatment room will be specifically for individual patients. The office can no longer accommodate non-health related cancellations. In the event of a non-health related cancellation, we ask that you give at least a one-week notice.
Our staff are tirelessly working to reschedule the 7,200 patients that were cancelled between March and May while also working to help all of the new trauma and genetic cases that are referred to us daily.
Please know that the physicians have personally chosen to still prioritize children at higher risk of visual issues: sudden loss of vision in one or both eyes, eye injury or chemical spill into the eye, eye trauma (ie dog attacked the face and lacerated the eye, fishhook in the eye), ocular cancer, brain masses, genetic issues, infantile cataracts/glaucoma, strabismus in children under 7 years of age, any new onset or uncontrolled strabismus (double vision, etc) at any age, neurological disorders, etc.
While we'll try to eventually see more patients, we still can't accommodate all routine eye needs at this time. School vision screenings, routine/annual eye exams, headaches from reading, mild eye redness, irritation and itching are things that aren't something we feel requires only a pediatric ophthalmologist to handle. So, if you don't want to wait for our next availability, we're happy to send your child's records to the eye doctors that care for the older members in your family
Call Center hours:

Monday – Friday: 7:30 am – 11:45 am and 12:30 pm – 3:45 pm.

Vision threatening eye emergencies:

We are available to our patients, referring doctors and ER staff 24 hours a day regarding vision threatening eye emergencies.

Optical Hours:

We aren't accepting any walk-ins for optical needs. During clinic hours, our opticians are focused on patients scheduled with the doctor. You can also visit our Optical page for FAQ.
The safety of our patients, staff, ourselves, all of our families and our community is our utmost responsibility.
Stay safe.
Drs. Al-Holou, Apkarian, Bohra, Gianfermi, Rao, Roarty and Rotberg
______________________________________________________________________________