April 9, 2020
We are continuing to follow the CDC and SOM's recommendations to only see patients for emergencies. While this is a continually evolving situation, as of right now we know our restrictions will continue at least through May 1, 2020.
While there is room for interpretation, the general rule of thumb is that the situation would be serious enough that the patient would need to be seen in the emergency room if we weren't available. A few examples are sudden loss of vision in one or both eyes, eye injury or chemical spill into the eye, possible eye infection/redness which is getting significantly worse over days, trauma to the eye (ie dog attacked the face and lacerated the eye, fishhook in the eye) and new onset of severe eye pain. Other factors the doctors consider are genetic and systemic issues that factors with the eyes (JIA causing uveitis, ocular cancer, brain masses, babies recently born premature). Again, there are a lot of variables, but the following are typically non-emergent issues: broken/loss of glasses, stye or chalazion, headaches from reading, mild eye redness, irritation and itching. 
We'll be attempting to keep our website updated with information to assist families during this time. Please review the information below and visit our NEWS page for many FAQ.
Emergency Visits
For the patients that will see us during this time period, we want you to know what we're doing to prevent the spread of COVID-19. We are following the recommendations of our hospital systems, the CDC and the American Academy of Ophthalmology: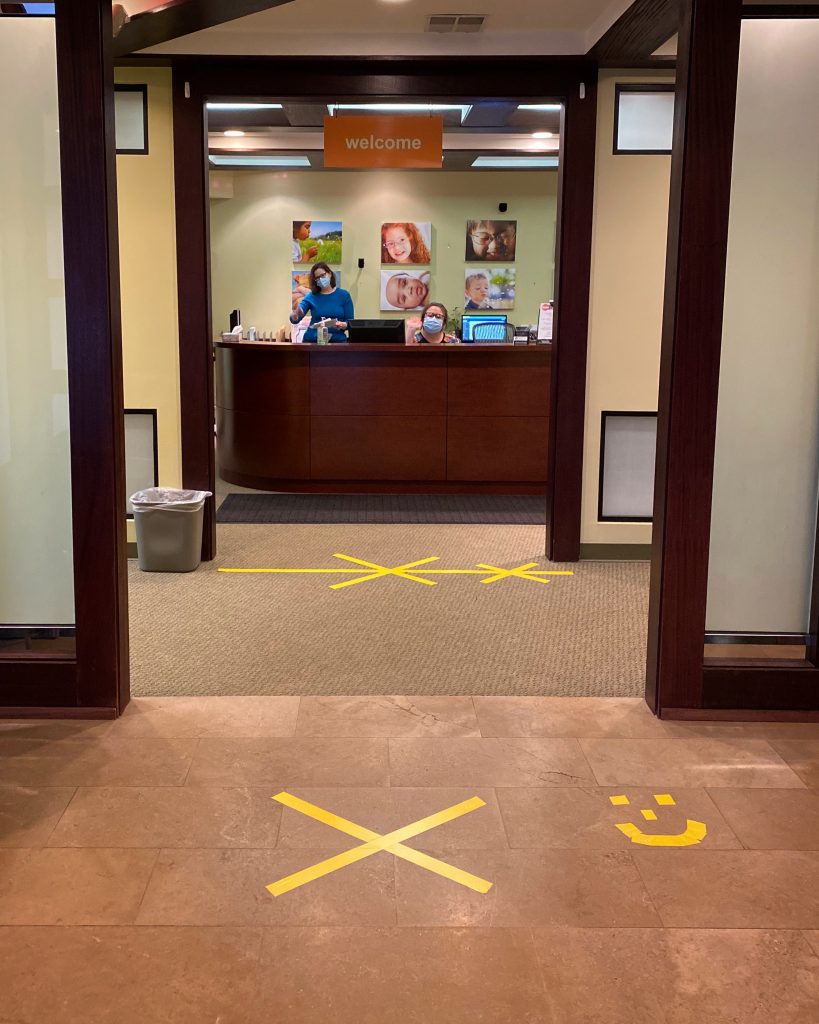 Limiting the amount of people in our offices at one time. Only ONE adult may accompany a patient even in cases where multiple children are scheduled to see us. In some situations, we're even having the patient and parent wait in their cars while dilating.
Screening visitors and staff for fever, cough, recent travel and/or exposure to COVID-19.
Making special accommodations for those with vision threatening issues and the above-mentioned risks.
Creating an environment that allows for social distancing. All toys, books, magazines and most chairs have been removed from exam rooms and lobbies. Having visitors stay approximately six feet away from others – including our front desk staff when possible.
Thoroughly disinfecting exam rooms between every patient.
Our Availability
While we have reduced the amount of staff we have in our offices during the COVID-19 pandemic, we are still available for your calls. Below are details to assist you with navigating your needs:
Call Center hours for routine questions:

Monday – Friday from 8:15 am until 12:00 pm.
We are working with very limited staff during the COVID-19 pandemic. So, please be patient and kind to the staff that are working incredibly hard to take care of your questions.

Vision threatening eye emergencies:

We are available to our patients, referring doctors and ER staff 24 hours a day regarding vision threatening eye emergencies.

Clinic Hours:

Our offices are closed for routine visitors. We are only allowing a patient (and one adult accompanying them) into our office on specific days assigned to see vision threatening emergencies.
During this time period, we will rotate a few 1/2 days weekly in our Detroit and West Bloomfield offices, and once every few weeks in our Clinton Twp office. During the month of April, we will not be seeing any patients in our Dearborn office.

Billing Dept hours for questions and payments:

Monday – Friday from 8:15 am until 12:00 pm.
Our billers are now working remotely and aren't accepting incoming calls. However, they are regularly checking their voicemail and email (billing@cecmich.com), and will respond to your questions during their working hours.

Optical Dept questions:

We have closed our opticals and are not allowing our opticians to have face-to-face time with any patients.
They will be working remotely a couple of hours once or twice weekly. You can call our offices to leave a message for them or email your questions to info@cecmich.com.
You can also visit our Optical page for FAQ.
Once we can relax these strict guidelines, we will follow-up with everyone to reschedule missed appointments. While we know many of you are anxious to reschedule non-essential appointments, we've chosen not to do this so not to create more chaos if our Shelter in Place is extended.
Also, please know that we've created an internal tracking system for everyone that's been cancelled during this time period. This will allow us to prioritize those patients when we're allowed to see more patients.
We will continue to follow CDC guidelines in regards to our ability to see patients. We will keep our website updated regarding our process. Thanks to all of our patients and families for their patience and understanding as we all work through this fluid situation together. We appreciate your continued support and confidence in Children's Eye Care.
Stay home. Stay safe.
Drs. Apkarian, Bohra, Gianfermi, Rao, Roarty and Rotberg
______________________________________________________________________________
A Coronavirus Guide for Eye Patients
______________________________________________________________________________
AAO's Recommendations Regarding Urgent Patient Care
March 18, 2020 |Due to the COVID-19 pandemic, the American Academy of Ophthalmology now finds it essential that all ophthalmologists cease providing any treatment other than urgent or emergent care immediately.

We now live and practice in a critically different medical reality—a rapidly evolving viral pandemic that is projected to, if unchecked, kill millions of Americans and tens of millions around the world. Public health experts agree that we must do two things on an urgent basis:
First, we must reduce the risk of the SARS-CoV-2 virus transmission from human to human and the rate of new case development. Only in that way can we flatten the curve and not overwhelm our very limited supply of hospital beds, ICU beds, ventilators and extracorporeal membrane oxygenation (ECMO) machines. We have already hit that stage in a few hard-hit metropolitan areas.

Second, we must as a nation conserve needed disposable medical supplies and focus them to the hospitals where they are most needed.

This disease is now in every state and the number of new cases is currently doubling every one to two days. Already, a handful of our ophthalmologist colleagues have died from COVID-19. It is essential that we as physicians and as responsible human beings do what we can and must to reduce virus transmission and enhance our nation's ability to care for those desperately ill from the disease. Public health experts unanimously agree that our window to modify the spread of disease is a narrow and closing one.

Accordingly, the American Academy of Ophthalmology strongly recommends that all ophthalmologists provide only urgent or emergent care. This includes both office-based care and surgical care. The Academy recognizes that "urgency" is determined by physician judgment and must always take into account individual patient medical and social circumstances. Each of us has a societal responsibility to not function as a vector of a potentially fatal disease—and one for which a widely available treatment or vaccine does not currently exist.
All other factors—business, finance, inconvenience, etc.—are remotely secondary. This is an existential crisis. We as physicians must respond to it and support our colleagues and our communities. Be safe.

For additional information go to aao.org/coronavirus.