We're offering virtual visits (video appointments) for several types of eye exams to allow patients (and their families) to video chat with their doctor from the safety of their own home – saving time, travel costs and risk of exposure.
To have a virtual visit, you will need a smartphone or tablet with access to the Apple Store or Google Play. This includes iPhones, Android phones, iPads, and Android-powered tablets. Virtual visits are paid the same way as regular office visits, and many insurance plans are actually waiving copays if you do virtual exams during the COVID-19 outbreak.
A virtual eye exam (particularly in children) isn't as easy for us to perform as other types of medical exams, because we are a microscope- and optics-based medical specialty. However, there are definitely many aspects of the exam the doctors can accomplish. If the doctors have offered to perform a virtual eye exam, they feel they can obtain good information to determine treatment now or at least know if the child can wait several weeks or months until being seen again.
______________________________________________________________________________
Your Child's Virtual Eye Exam
ON THE DAY WE EMAIL YOU ABOUT THE VIRTUAL EXAM:

Put the appointment details on your calendar, just like you would for an in-person exam, so you don't forget that you have an appointment scheduled with the doctor.
Take time to read the information we've provided you; it will make this exam easier for you and your child.

A FEW DAYS BEFORE THE VIRTUAL EXAM:

For children 3 and above, please follow the instructions below on checking vision. It's imperative that you attempt to do this before the appointment.

ON THE DAY OF THE VIRTUAL EXAM:

The patient must be present with you during exam.
If your child wears glasses, be certain to have them with you.
For infants and young children, it's helpful to have small toys within arm's reach during the exam. We may ask you to hold them up to help direct the child's attention toward the phone's camera.
Flashlights can be helpful if we need you to enhance certain parts of the eyes during the exam.
Find a quiet place in your home that provides good lighting and very few distractions.
Keep your phone close so you can receive the text that sends you to the video portal.

MINUTES BEFORE THE APPOINTMENT:

You'll receive a text message similar to the first image on the left below.

Click on the hyperlink in the text message you receive to open the secure video.
Click "Allow" so the app has permission to access your video and microphone.

Your virtual exam will immediately start with the doctor.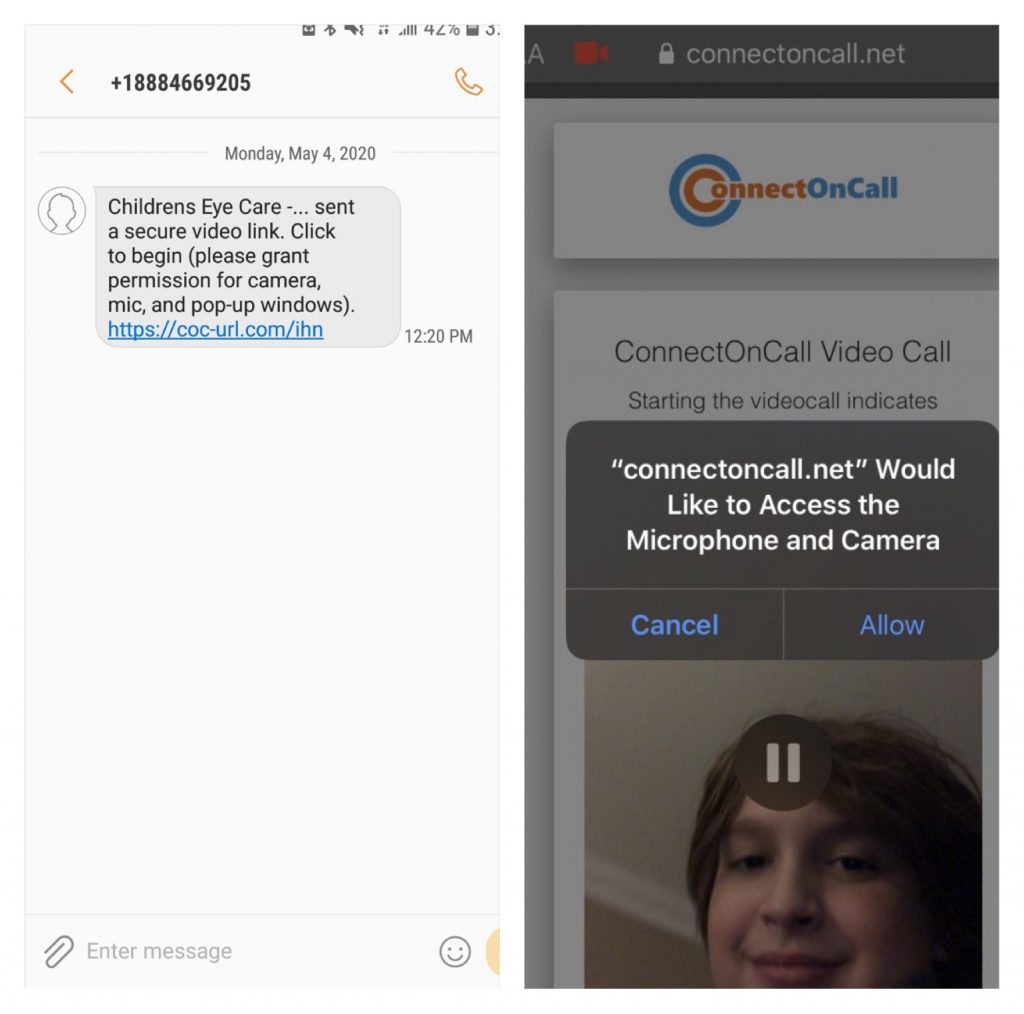 ______________________________________________________________________________
Testing Your Child's Visual Acuity
For children ages 3 and older, families must attempt to assess the child's visual acuity for EACH eye at home a couple days BEFORE the virtual appointment with the child.
Please know that if we are doing an exam for amblyopia, a virtual visit won't be successful without a visual acuity. It's imperative that you attempt to take your child's vision.
Take the vision of EACH eye separately. Testing vision with both eyes open isn't needed nor helpful.
Be sure to record the vision score for each eye (the eye that was uncovered during testing). You will need to provide these numbers to your doctor during your telemedicine visit.
With younger children it may take several times so please give yourself some time to do this. We understand that it may not be possible to successfully determine their visual acuity, but we feel it's important that you make every effort to attempt getting this information. The first thing you'll need to do is download one of the apps below. We have provided you with step-by-step directions.
Option: iPhone Users

If your child knows LETTERS, check vision with this iPhone app: Visual Acuity Charts.
If your child doesn't know letters, check vision with SYMBOLS via this iPhone app: Kay iSight.

Option: Android Users
______________________________________________________________________________
Video Instructions
______________________________________________________________________________